P118F Series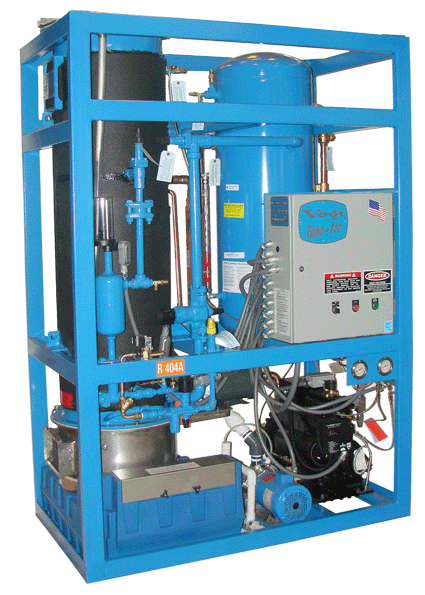 The P118F Series with a capacity range of 5 tons of ice per day is the preferred choice of ice machine for thousands of food service, industrial, or start-up packaged ice applications worldwide. Heavy-duty industrial construction, automatic operation, energy efficiency and the best warranty in the business make the Vogt P118F Series the only "clear" choice for your ice making needs.
All surfaces in contact with water or ice are of stainless steel or other rust-resistant materials.  Units are factory tested and adjusted for cylinder ice only and can be manually converted to crushed ice in the field if required. Unit can be set for crushed ice at factory with no extra charge if specified on order.  Dual ice option is available to provide cylinder or crushed ice from a single unit.
P118F Standard Features:
25 Year Evaporator Warranty
Voltage – 208/230v.,3p.,60hz.
Refrigerant 404a
Highly efficient Copeland Discus compressor
Electronic ice bin thermostat
Water-cooled or remote air-cooled operation
Domestic crating for machine and condenser
Power monitor on 50hz units
P118F Standard Ice Sizes:
Tube-Ice approximately 7/8″ Diameter X 3/4″ Long (P118F-1″ models)
Tube-Ice approximately 1 1/8″ Diameter X 1″ Long (P118F 1-1/4″ models)
Tube-Ice approximately 1 3/8″ Diameter X 1″ Long (P118F 1-1/2″ models)
Crushed Ice 3/16″ to 1/4″ Thick on all models (approximately 32 lbs./cubic foot)
P118F Options:
Voltage – 460v.,3p.,60hz.
Voltage – 400v.,3p.,50hz.
Voltage – 200v.,3p.,50hz. or 230v.,3p.,50hz.
Voltage – 575v.,3p.,60hz.
High ambient air-cooled condenser
Electro-fin coated condenser
Condenser for sea water
PLC Control panel (programmable logic controller)
Dual Ice Feature (cylinder and crushed ice)
Cutter for 1-1/2" long ice
Cutter for crushed ice operation
Stainless steel casings
Remote switch box
Power monitor (for 60hz.)
"CE" Approval (400v, 50hz only)
Canadian Registration Number (CRN)
Export crating (ISPM-15 Rated)