VT100 Series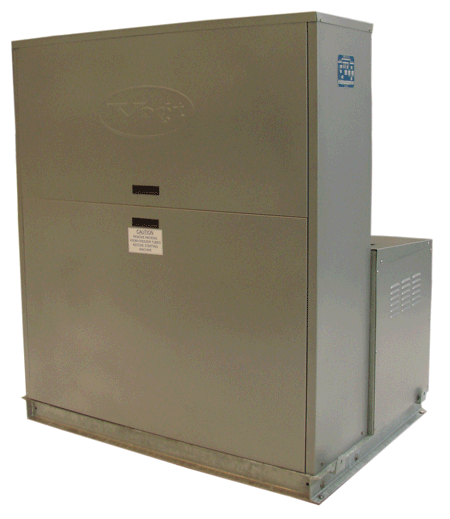 In 1938, Vogt revolutionized the ice making industry by
introducing the world's first automatic sized icemaker, the Vogt
Tube-Ice machine.  Today, Vogt Ice offers a variety of ice options
including Tube-Ice, fragmented, and cracked ice produced by
the VT100 Series.
The VT100 Series with a capacity of 5 tons of cracked ice per
day is a lower cost per pound ice machine and the preferred
choice of ice machine for many industrial applications.
VT100 Standard Features
Voltage  – 208/230v.,3p.,60hz.
Refrigerant 404a
Bitzer compressor for efficient operation
Electronic ice bin thermostat
Air-cooled operation with remote condenser
PLC Controls featuring:
-Controlled restart after power outage to prevent freeze ups
-Adjustable ice thickness
-Cutter delay at start of harvest
-Error code notification to identify problem area quickly
Patended roto molded, sanitary water distributor
Sealed Chopper bar
-Sealed ball bearings to prevent leaks
-Direct drive gear reducer – no belts
UL Approved control panel
Standard casings are hot dipped Galvanneal for long lasting maintenance free corrosion protecti
Hot gas defrost for rapid harvest and quick recovery
Double Walled vertical tube evaporator for maximum efficiency & production
Harvest hold for definite defrost in varying ambient temperatures
VT100 Options
Voltage – 460v.,3p.,60hz
Voltage – 400v.,3p.,50hz
Voltage – 200v.,3p.,50hz.
Remote switch box
Canadian Registration Number (CRN)
Export crating (ISPM-15 Rated)
Power monitor
Epoxy coated condenser
Stainless steel casings ice making section
Stainless steel casings for compressor compartment
Skid mounted self contained unit with condenser
Water cooled condenser
Available as low-side only unit
Refrigerant 407F (CE Models)
CE approval (400v.,3p.,50hz. only)